HOW TO SEARCH and QUERY ChameleaBase
ChameleaBase is the database of the first
Chamelea gallina
skeletal muscle transcriptome.
The database entries correspond to putative
C. gallina
trascripts, chracterised by bioinformatic analyses.
Individual transcripts are associated to different kinds of sequence and annotation by similarity information.
See a sample ChameleaBase entry
http://compgen.bio.unipd.it/chameleabase/contig/Chamelea_rep_c41198
HOW TO SEARCH ChameleaBase
The database is searchable form the
search
page using keywords on all entry fields.
The result of such a search is a table listing accession numbers and descriptions of matching entries, linked to contig pages.
Screenshots of search form, results table and linked entry: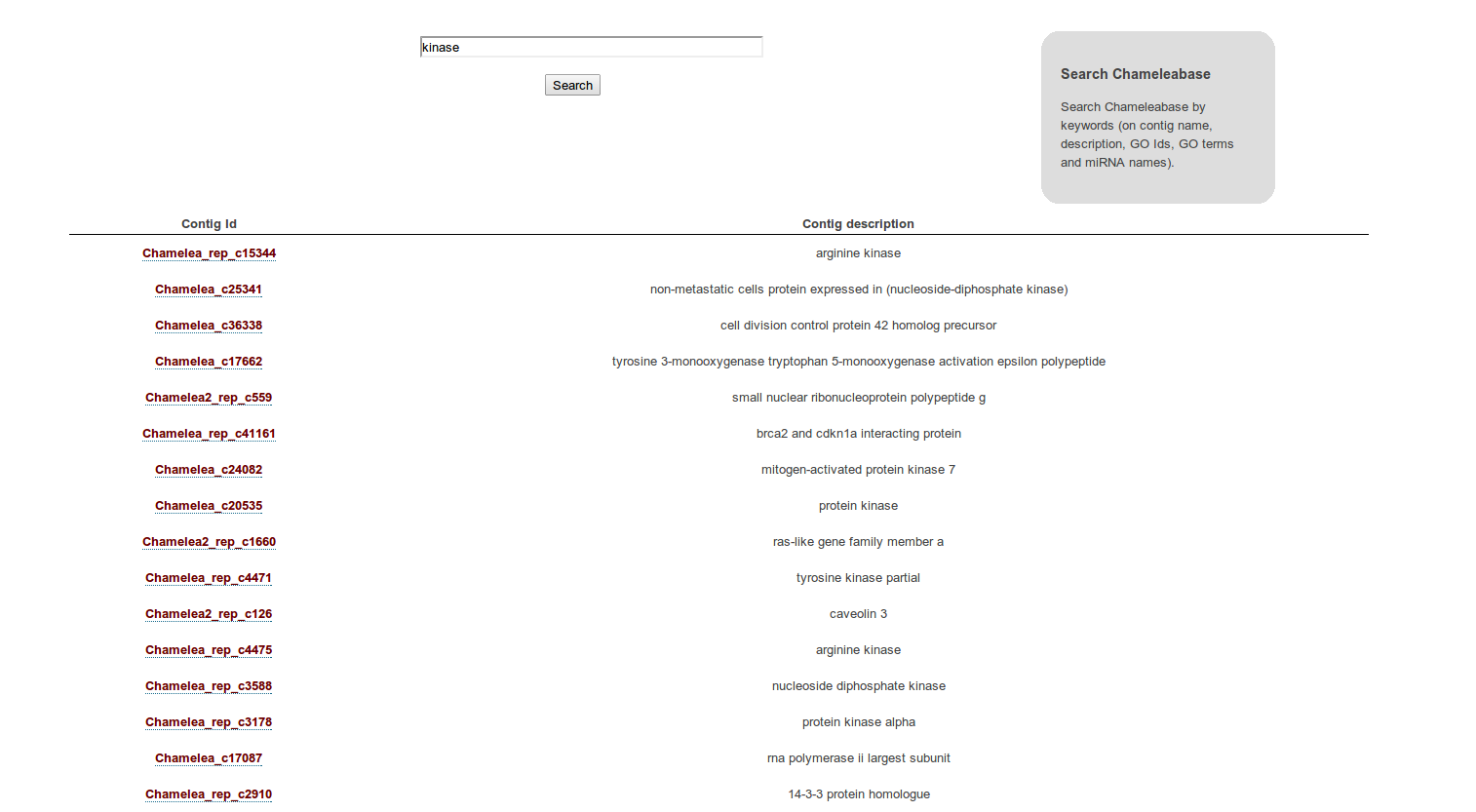 HOW TO BROWSE ChameleaBase for MASSIVE DATA RETRIEVAL
The database in
browsable
: by combining searches of specific keywords in given entry fields the user can retrieve information about all the matching entries, as table separated values (TSV) text files. The special keywors "HAS" can be used to retrieve all the entries with a non empty content of one or more specific fields.
Indeed, the the user can customise the retrieved information.
Simple query:
using a given contig accession number
retrieving contig description and sequence information


Chamelea_c25341	non-metastatic cells protein expressed in (nucleoside-diphosphate kinase)	GAATGCACCTGCTGTGTGATCAAACCACATGCTGTTCAAGCAGGTAATGCTGGTAAGATAATTAGTGCTATAATGGAAGCTGGCTTCGAGGTTTCTGCCATAGAAATG...

Advanced query:
Using "growth" as keywords on description field
using HAS on GO descriptions, to consider all the entries corresponding to contigs associated to GO terms
retrieving both sequence and annotation information


Chamelea_rep_c4728	inhibitor of growth member 1	GO:0009987	AAGCAGTGGTATCAACGCAGAGTACTGGAGTTTTTTTTTTTGGAATTTTCTCCTCCTCCTCTTTTATAAGCGTGTCATGATTTTTCTGCC...

Chamelea2_c757	fibroblast growth factor receptor 3	GO:0043066,GO:0048339,GO:0001759,GO:0060045,GO:0048762,GO:0001525,GO:0042472,GO:0065008,GO:0060665,GO:...

Chamelea_rep_c4609	growth arrest-specific 8	GO:0008285,GO:0005932,GO:0005794,GO:0009434,GO:0005515,GO:0030317,GO:0005929,GO:0005874	GTCCATCCATTACAATGG...

...
...